From Death Note to Bleach to Naruto, manga graphic novels have seized the eyes and hearts of comic book readers worldwide. In Japan, manga is so popular that they are read by people of both gender and all ages, and there are more papers used for printing manga than toilet paper.
Some manga stories are so captivating that many people have become addicted to them. Well, who can blame them? With gripping plots, relatable characters, and commendable messages, getting lost in manga stories is like embarking on an adventure into another world.
So, if you are new to the manga world and are unsure where to begin, this article will guide you on how to read Japanese manga.
Let's start with the basics.
Manga Meaning
Mangas are Japanese comic books and graphic novels usually hand-drawn in black and white. Some popular manga series include My Hero Academia, One Piece, One-Punch Man, and Attack on Titan.
Now, on to the topic at hand.
Steps To Read Manga
1. Familiarizing Yourself With Manga
Take a look at the 5 demographics of manga:
For tween and teen boys – Shonen
Shonen Manga translates to "young person's comic'. The genres of Shonen usually include Coming Of Age, Action, Adventure, Friendship. Some of the most popular mana in this category include Attack On Titan, Bleach, Yu-Gi-Oh!, Naruto, My Hero Academia, Dragon Ball, Hunter x Hunter, Captain Tsubasa, Slam Dunk and Black Clover.
For tween and teen girls – Shojo
In English, the Japanese word shojo translates to "young girl", while manga means comic. So, Shojo Manga targets teens and tween girls. The genres are usually Romance, Drama, and Coming of Age. Some of the readers' beloved Shojo Manga include Nee Sensei, Shiranai no?, Honey Lemon Soda, Orange, Namaikizakari, Fruits Basket, Yona Of The Dawn, Ao Haru Ride, Yakuza Lover and Maid-Sama!
For Adult Men – Seinen
Seinen manga, which is loosely translated means "comic for youth", targets adult men between the ages of 18 and 40 as the key demographics as they cater to men's interests in their art. The genres are usually Action, Violence, Sex, and Adult themes. Some of the most popular Seinen Manga include Drifters, Berserk, Vinland Saga, Kaguya-Sama: Love Is War, March Comes In Like A Lion, Land Of The Lustrous, One-Punch Man, Blue Period, Black Lagoon and Kingdom.
For Adult Women – Josei
Much like Seinen manga, Josei manga targets adults between 18 and 40 years as the key demographics but only caters to women's interests. So, these types of comics are made for adult women to enjoy. The genres usually include Romance, Sex, and Drama. Among the most popular Josei mangas are Your name, A Silent Voice, House Of The Sun, Wotakoi: Love Is Hard For Otaku, Queen's Quality, Perfect World and Devils and Realist.
For Young Children – Kodomomuke
Kodomomuke Mangas are targeted at children up to the age of puberty. They are usually cute and fun with good morals. Some well-loved Kodomomuke Mangas include Anpanman, Astro Boy, Doraemon, Kirby of the Stars, Bomberman Jetters, Demashita!, Powerpuff Girls, Z. and Chimpui.
Now, if you look at the above mentioned 5 demographics of manga, it will be easy for you to know exactly what you are looking for based on your interest.
Our advice is that to experience the brilliance of manga series, don't just stick to one genre. Thankfully, you can choose from a plethora of genres in Manga, from fantasy to historical, comedy to action, mystery to adventure, gender blender to slice of life, etc.
2. Choosing The Right Manga For You
This is not to say there are right and wrong types of manga, but you need to look for those that are more up your alley. Before choosing the manga that you will be spending a lot of time with, we suggest that you do a quick background check on it. For example, read a summary or go through the reviews. After all, you will be the one who will be spending your time and energy on it, so choose one that will be worth it all.
So, pick a series that checks all your boxes regarding your likes and interests. Now, as many manga are serialized, ensure that you start with the first story and go from there.
3. Handling Your Manga
Now that you've got your manga, let's continue with the tips on the best ways to read the manga. The first tip is how to place your manga on the table. Now, to read manga, you need to place the leaf ends on the left so that the book's spine is positioned to the right. As you can see, unlike other books, this is considered backward reading. Some manga will warn you that you are reading incorrectly, so don't worry too much.
If you see the name of the author and manga title on the first page you are reading, you are on the right path.
4. How To Read Manga Panels
The manga panels should be read from right to left and up and down. You can start with the upper right-hand panel on the corner of the page, then move to the left. Once you've reached the end of that row, you can move on to the far right of the following row of panels.
Even the dialogue boxes or balloons should be read from right to left and up and down. If you happen to come across a black background in a panel, it means that it's a flashback that took place before the story you are currently reading. Moreover, if you come across a page with a black background at the top of the panel and the next panels are grey and then white, it means that the story is shifting from past to present.
If you come across vertically arranged panels, start from the tops and work your way down.
5. Understanding The Emotions Of The Characters
There are tell-tale signs used by the authors or graphic designers that are used to depict the characters' emotions. Here are some of them: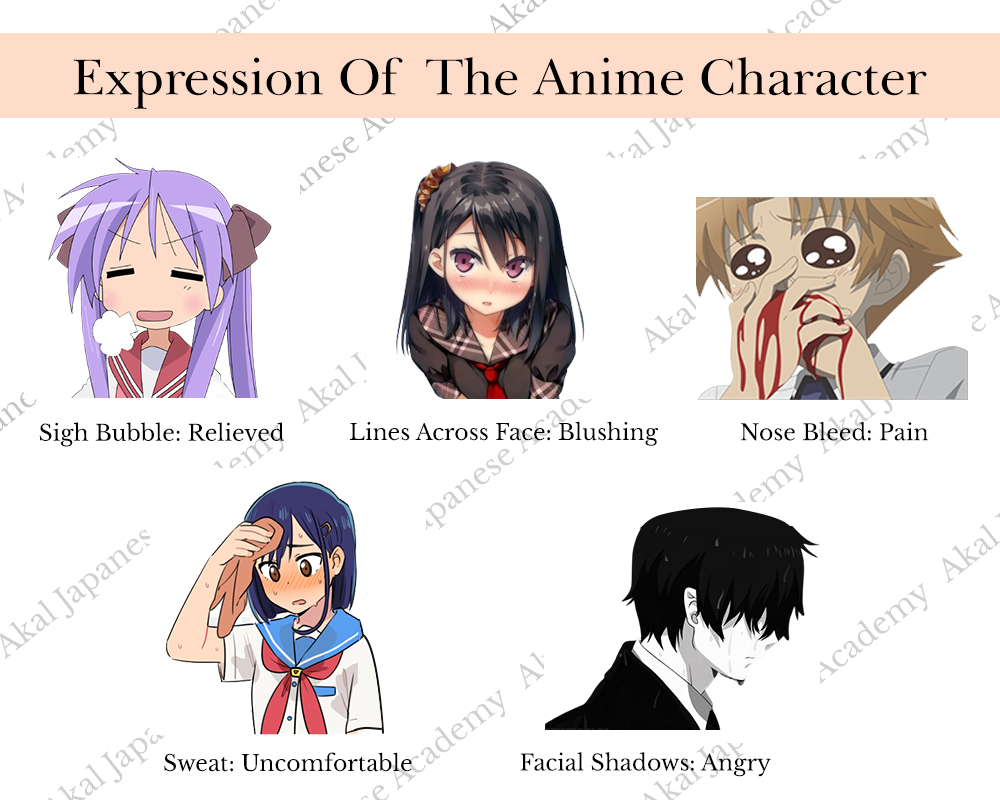 A sigh bubble: A sigh bubble is used when the character is relieved or exasperated. The bubbles will usually be placed below their mouths.
Lines across the character's face: When you see lines drawn in the character's face, usually around their cheeks, it means they are blushing. This could be because they are happy, embarrassed or in love.
Nose bleed: If you come across a character with a nose bleed, it doesn't necessarily mean he is harmed or in pain; it means he is having lustful thoughts about another character.
Sweat: When you see characters with sweat drops on or near their heads, this means that they are uncomfortable or embarrassed.
Facial shadows: When a panel shows a character with half his face and the background in dark colours such as black and grey, this means that he is angry or irritated about something. It usually represents dark energy.
Best Mangas To Read
Based on the different genres, we have compiled some of the best manga to read just for you. Take a look –
Action: Solo Levelling, Vagabond, One Punch Man, One Piece, Hunter X Hunter, Bleach, Naruto, Black Clover, Dragon Ball, Fairy Tail and Soul Eater.
Romance: aichou wa Maid-sama!, Horimiya, Kimi ni Todoke, Zettai Kareshi (Absolute Boyfriend), Tonari no Kaibutsu-kun (My Little Monster), Dengeki Daisy, Lovely Complex, Bokura ga Ita (We Were There), Ao Haru Ride (Blue Spring Ride) and Strobe Edge.
Fantasy: Sailor Moon, Yona of the Dawn, Fullmetal Alchemist, Full Moon O Sagashite, Magic Knight Rayearth, Pet Shops of Horrors, Death Note, Revolutionary Girl Utena, and Sleepy Princess In The Demon Castle.
Adventure: Hell's Paradise: Jigokuraku, Solo Leveling, Your Letter, Heavenly Demon Reborn!, Leviathan, A Returner's Magic Should Be Special, Reverend Insanity, Her Summon, and Fairy Tail: 100 Years Quest.
Comedy: The Way of the Househusband, My Next Life as a Villainess, Gekkan Shoujo Nozaki-kun, Spy X Family, Beck, One-Punch Man, Yona Of The Dawn, GTO: Great Teacher Onizuka, Haikyuu!!, and Grand Blue Dreaming.
Sports: Ping Pong, Blue Lock, Cross Game, Eyeshield 21, Chihayafuru, Diamond No Ace Act II, One Outs, Slam Dunk, Ashita No Joe, Real, and Haikyuu!!
Slice of Life: Ashita no Joe, Goodnight Punpun, Nana, March Comes in Like a Lion, Here U Are, A Silent Voice, Blue Period, Given, Bloom Into You, ReLIFE and Mushishi.
Coming of age: Yesterday wo Utatte, Vinland Saga, Koe no Katachi, Runway de Waratte, Nana, Koe no Katachi, Onanie Master Kurosawa, Gin no Saji and Spirit Fingers.
Horror: Shiver, Uzumaki, Tokyo Ghoul, Berserk, The Promised Neverland, Gantz, Blood on the Tracks, Mieruko-chan, I Am a Hero, Dorohedoro and Parasyte.
Kids: Chi's Sweet Adventures, Pokemon Adventures, Leave it to PET!, ChocoMimi, Swans in Space, Cardcaptors, Dragonball, Kiichi and the Magic Books, Anpanman, Astro Boy, Doraemon, Kirby of the Stars, Bomberman Jetters, Demashita!, Powerpuff Girls, Z. and Chimpui.
Where To Read Manga For Free
If you are looking for free online manga to read, the following sites will grant you your wish (Do bear in mind that not all mangas will be available for free online).
Well, now that you have the tools to enjoy your manga in the best way, we hope you have a fun and exciting adventure.
Until next time, Sayonara for now!
(Visited 321 times, 1 visits today)