Suppose you ever plan on going to Japan for work or study. In that case, you will need to know how to say the days of the week in Japanese, including the months, because Japan is a non-English speaking country, meaning the majority of the population does not speak or understand languages other than Japanese.
In this blog, we will show you how to say the months and days of the week in Japanese.
Let's begin.
Days Of The Week In Japanese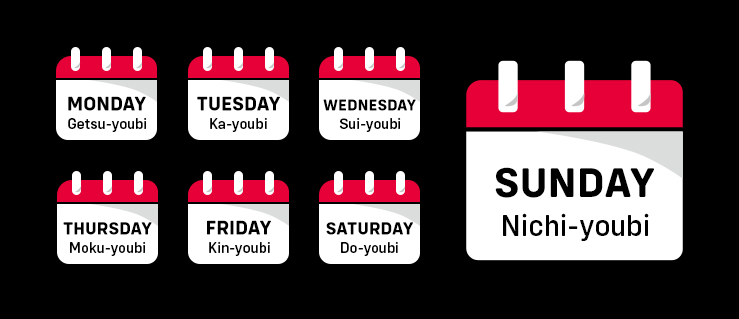 Monday – Getsu-youbi
Tuesday – Ka-youbi
Wednesday – Sui-youbi
Thursday – Moku-youbi
Friday – Kin-youbi
Saturday – Do-youbi
Sunday – Nichi-youbi
Days In Japanese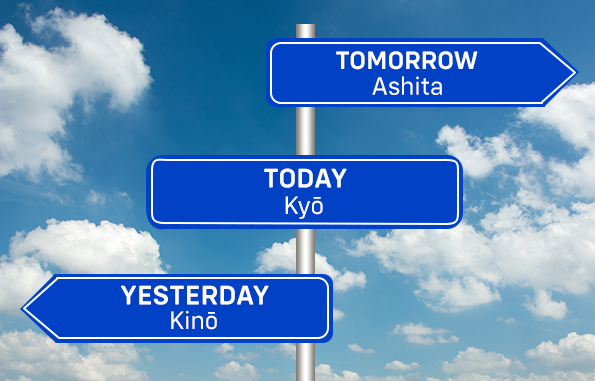 Yesterday in Japanese – Kinō
Today in Japanese – Kyō
Tomorrow in Japanese – Ashita
Months In Japanese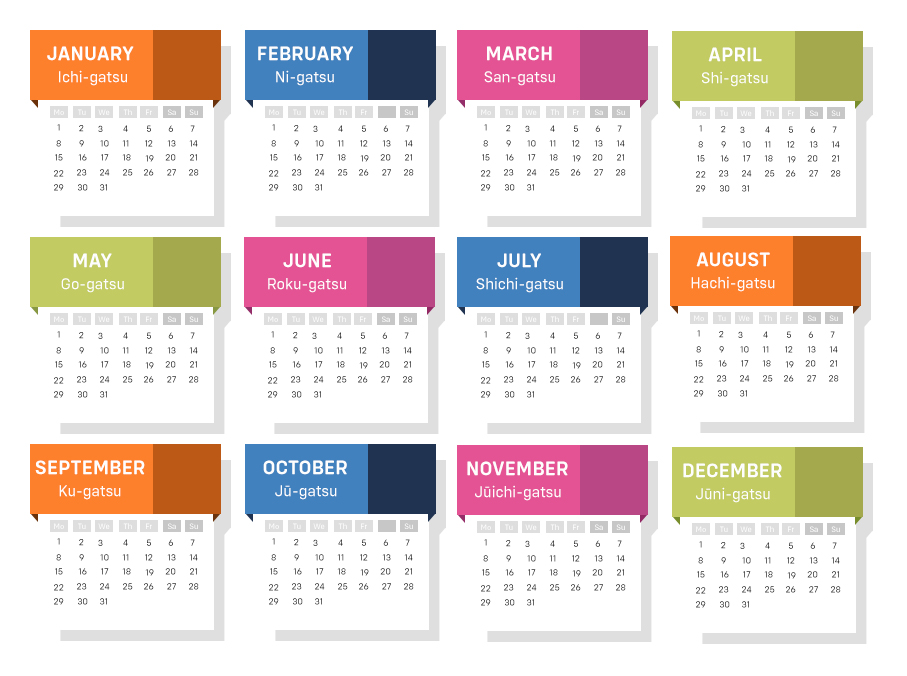 January – Ichi-gatsu
February – Ni-gatsu
March – San-gatsu
April – Shi-gatsu
May – Go-gatsu
June – Roku-gatsu
July – Shichi-gatsu
August – Hachi-gatsu
September – Ku-gatsu
October – Jū-gatsu
November – Jūichi-gatsu
December – Jūni-gatsu
How to Write the Date in Japanese?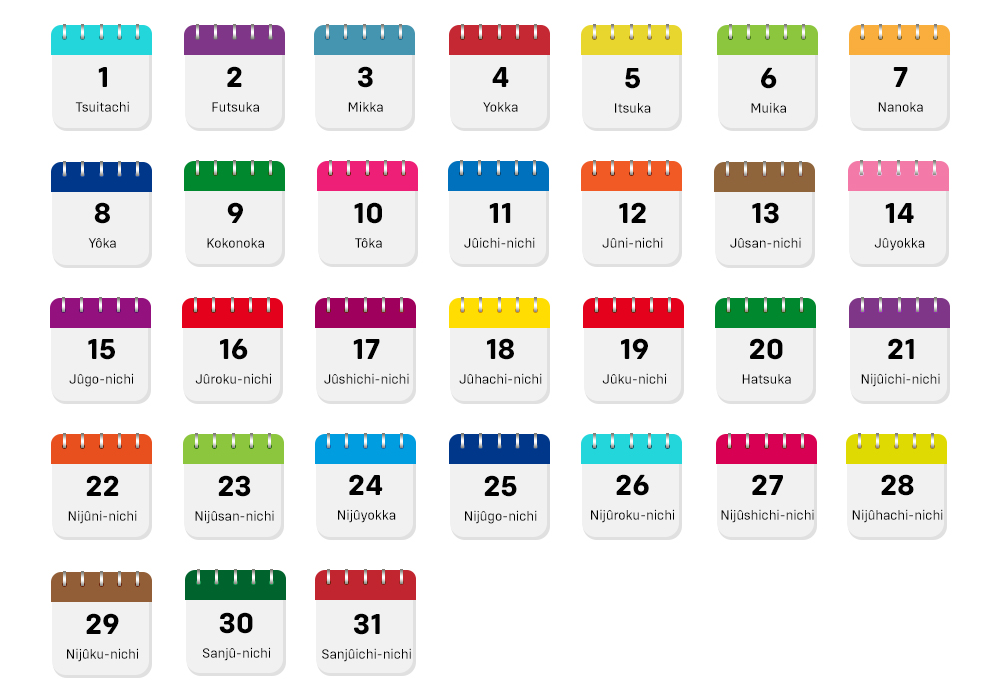 1st – Tsuitachi
2nd – Futsuka
3rd – Mikka
4th – Yokka
5th – Itsuka
6th – Muika
7th – Nanoka
8th – Yôka
9th – Kokonoka
10th – Tôka
11th – Jûichi-nichi
12th – Jûni-nichi
13th – Jûsan-nichi
14th – Jûyokka
15th – Jûgo-nichi
16th – Jûroku-nichi
17th – Jûshichi-nichi
18th – Jûhachi-nichi
19th – Jûku-nichi
20th – Hatsuka
21st – Nijûichi-nichi
22nd – Nijûni-nichi
23rd – Nijûsan-nichi
24th – Nijûyokka
25th – Nijûgo-nichi
26th – Nijûroku-nichi
27th – Nijûshichi-nichi
28th – Nijûhachi-nichi
29th – Nijûku-nichi
30th – Sanjû-nichi
31st – Sanjûichi-nichi
Time Of The Day In Japanese
Night in Japanese – Yoru
Evening in Japanese – Ban
Noon in Japanese – Hiru
Morning in Japanese – Asa
Afternoon in Japanese – Gogo
Time In Japanese And Its Related Terms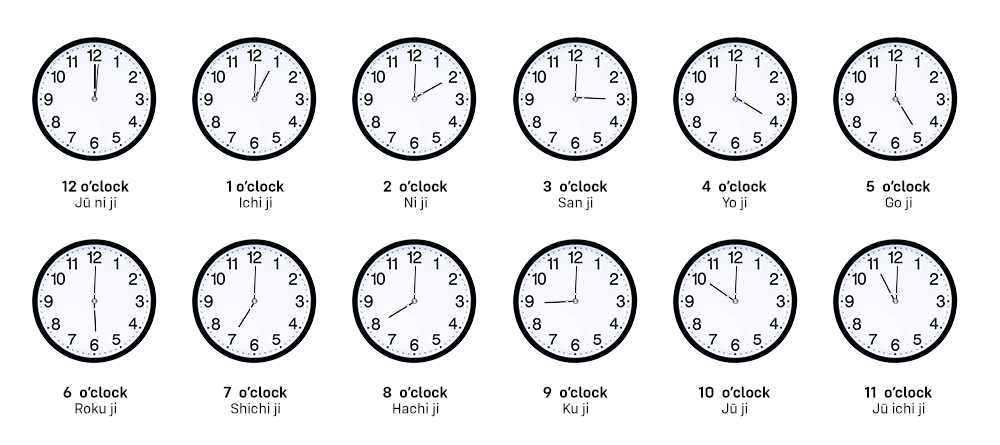 1 o'clock – Ichi ji
2 o'clock – Ni ji
3 o'clock – San ji
4 o'clock – Yo ji
5 o'clock – Go ji
6 o'clock – Roku ji
7 o'clock – Shichi ji
8 o'clock – Hachi ji
9 o'clock – Ku ji
10 o'clock -Jū ji
11 o'clock – Jū ichi ji
12 o'clock – Jū ni ji
Time/Hour – Jikan
Minute – Fun
Second – Byō
A.M. – Gozen
P.M. – Gogo
Quarter Hour – Yíkèzhōng
O'clock – Ji
Half – Han
Time-Related Phrases In Japanese
What time is it? – Ima nanji desu ka?
What is today's date? – Kyō wa nan-nichi desu ka?
What day is it today? – Kyō wa nanyōbi desu ka
At what time are you leaving? – Nan-ji ni demasu ka?
How many hours does it take? – Nan-jikan kakarimasu ka.
Until what time? – Nan-ji made desu ka?
What time will you be there? – Anata wa nanji made sokoni imasuka?
Well, there you have it – how to say time, days, dates, and months in Japanese.
Do you want to broaden your Japanese language skills?
If so, India has some of the best Japanese language learning schools. One such school is AKAL Japanese Academy.
AKAL Japanese Academy focuses on teaching the students the Language of Japan and everything they need to know about Japanese Culture and Traditions. Qualified with the best learning materials and some of the best Japanese language teachers, you will be given flexible time slots depending on your availability.
Moreover, suppose you dream of having a successful Career in Japan. In that case, AKAL Japanese Academy will help you find your dream job, give you career counseling, and assist you with the visa application process.
Interested?
To know more, visit AKAL JAPANESE ACADEMY or contact us @ 011-40560919 / 9310533001 to register today.
We will leave you here with our best wishes.
Until next time, Sayonara for now!

(Visited 66 times, 1 visits today)