Besides its mountainous backdrops, fascinating culture, delectable cuisines, rich cultural heritage, and ever-increasing popularity of arts and entertainment such as anime and J-pop, the auspicious Japanese festivals are other reasons people visit Japan.
The Japanese locals hold many festivals in Japan to celebrate the deities of their shrines, while some are historical or seasonal occasions. And while some may occur just for one day a year, some Japanese festivals last for days, and there are often food stalls, carnivals, and other entertainment for people to enjoy.
In this article, we will share some of the most famous festivals in Japan.
Also Read: A Brief History Of Japanese Pop Music & Its Expansion
Famous Japanese Festivals
1. Yuki Matsuri

When: January/February
Where: Sapporo, Japan
How Long: 7 days
Also known as the Sapporo Snow Festival, Yuki Matsuri is a seasonal festival in Japan wherein people come together in Sapporo – the largest city north of Tokyo – to build stunning snow and ice sculptures and enjoy snowball fights and food.
This fun Japanese festival all began when half a dozen high-school students built six snow statues in Sapporo's Odori Park in 1950, impressing the Japanese locals. It is now celebrated for seven days annually, with Odori Park, Susukino, and Tsudome being the main sites and witnessing over 2 million visitors for this winter festival in Japan.
You can expect to enjoy snowball fights as well as some hot food to warm up your body and feast your eyes on amazing snow and ice sculptures.
2. Gion Matsuri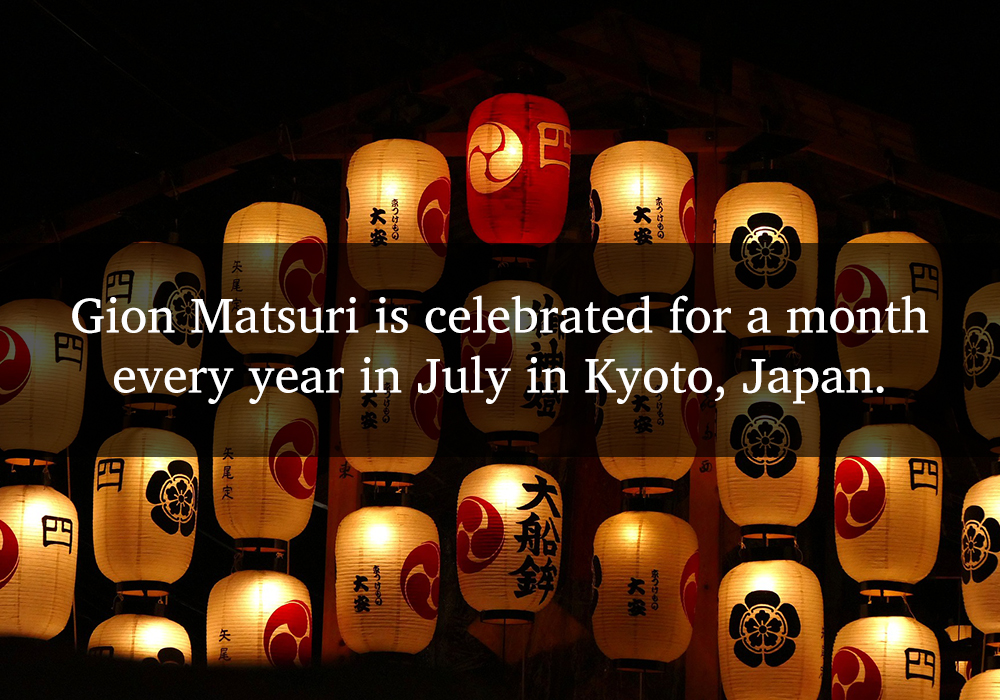 When: July
Where: Kyoto, Japan
How Long: 1 month
Gion Matsuri is a religious festival in Japan celebrated for a month every year in Kyoto and is one of the largest festivals in Japan.
This vibrant festival dates back to 869. Back then, when a plague broke out, Emperor Seiwa ordered people to Susanoo-no-Mikoto, the god of the Yasaka Shrine, to appease the gods. Whenever there was an epidemic, people would repeat this practice.
You can expect to be amazed by the grand procession of floats, a ceremony known as Yamaboko Junkō, which starts from the 17th of July and lasts till the 24th. Also, get the chance to encounter what it's like inside a Japanese home when private house owners open their doors to showcase their family heirlooms for outsiders. Moreover, you will get to experience the nightlife in Japan as you stroll through the streets lined with night stalls while enjoying various Japanese cuisines and sweets.
3. Tenjin Matsuri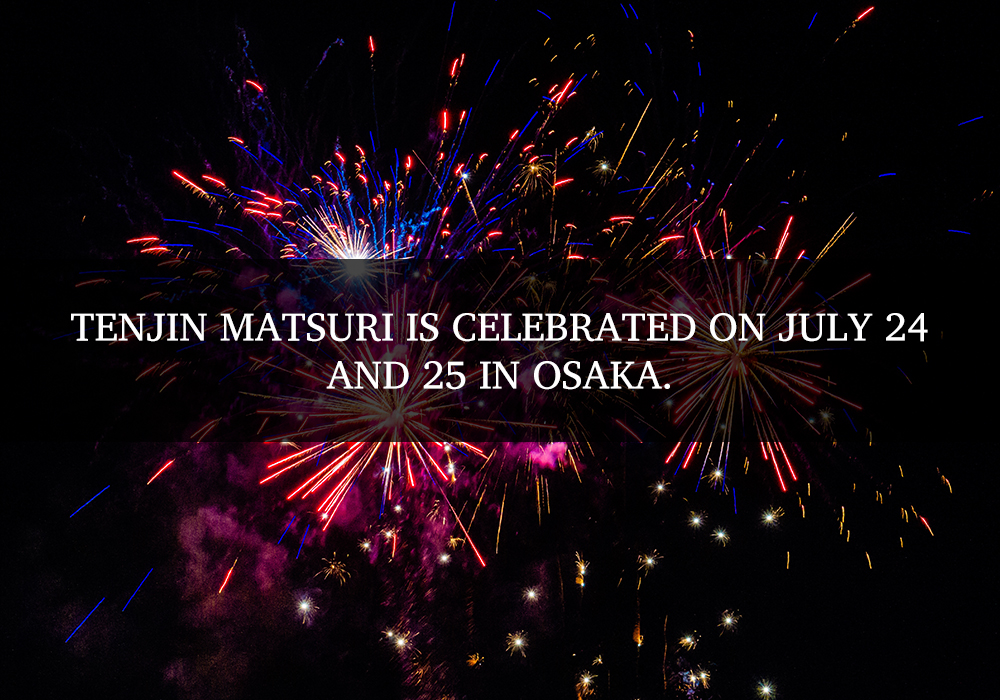 When: July 24 and 25
Where: Osaka
How long: 2 days
Among the top 3 festivals in Japan, along with Gion Matsuri and Kanda Matsuri, Tenjin Matsuri is celebrated annually on the 24th and 25th of July to honor Sugawara no Michizane, the deity of learning to pray for peace, protection, and wealth of Osaka. Celebrated in the 10th century, the ceremonies include a land procession and a river procession with music, food, and fireworks.
The celebration tradition starts with the deity, Sugawara no Michizane, being paraded through the city with music, dance, and other entertainment.
You can expect to enjoy good food, bonfires, and spectacular fireworks during this summer festival in Japan.
4. Kanda Matsuri
When: Saturday and Sunday closest to May 15, every odd-numbered year
Where: Tokyo
How long: Events usually last for over an entire week
Along with Gion Matsuri and Tenjin Matsuri, Kanda Matsuri is celebrated in May in Tokyo. It is also the biggest of the three Shinto festivals, the other two being Fukagawa Matsuri and Sannō Matsuri. Stared in the 17th century and now observed in odd-numbered years, this religious festival of Japan honors Tokugawa Ieyasu, founder of the Tokugawa Shogunate of Japan, the then military government of Japan during the Edo period, and people pray for prosperity and good fortune.
Celebrated on the Saturday and Sunday closest to May 15 during odd number years, this festival is held at the Kanda Shrine and the surrounding central districts of Tokyo. And on Sundays, people can witness parades of portable Shinto shrine also known as mikoshi, accompanied by music, dances, and floats.
You can expect to marvel at the lively dances and sway along with the beat of the drums as people parade over 200 floats and mikoshi.
5. Aomori Nebuta Matsuri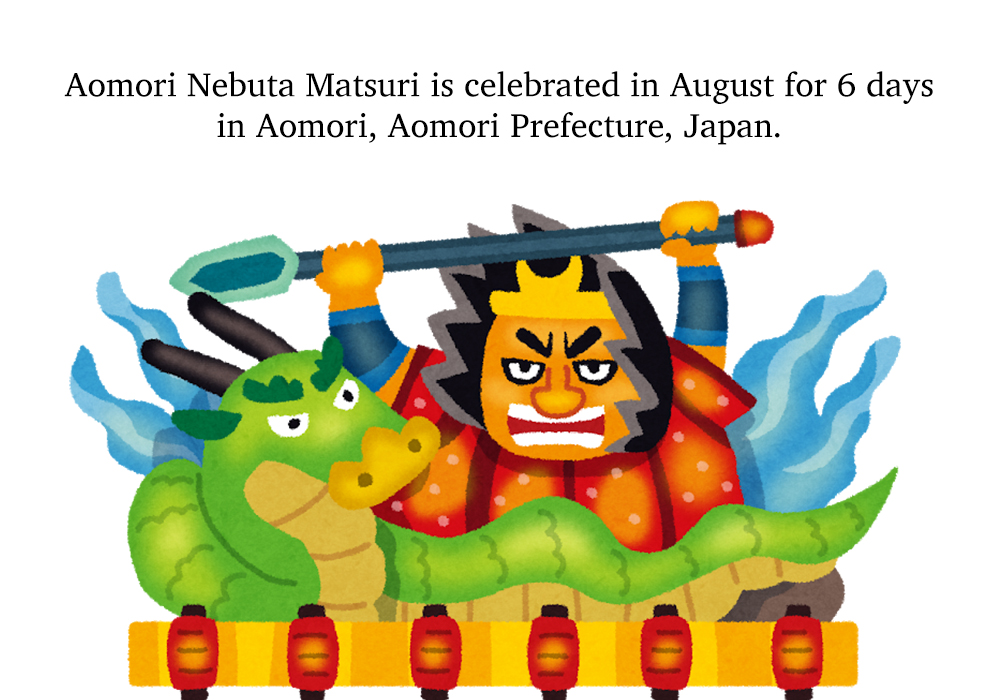 When: August
Where: Aomori, Aomori Prefecture, Japan
How Long: 6 Days
Aomori Nebuta Matsuri is a famous summer festival of Japan celebrated in early August to bid farewell to the spirits of the dead. It is one of the biggest festivals of the Tohoku Region, and among Japan's nebuta festivals, it attracts the most tourists.
Celebrated in almost all regions of Aomori Prefecture, this illuminating festival's primary focus is on the nebuta, which refers to the floats of a heroic warrior figure. The floats, which are made of bamboo, cotton, and clothes, usually take a year to be completed.
You can expect to be mesmerized by the dazzling display of lantern floats and dancers donning traditional haneto dancing costumes while serenaded by some live music.
6. Obon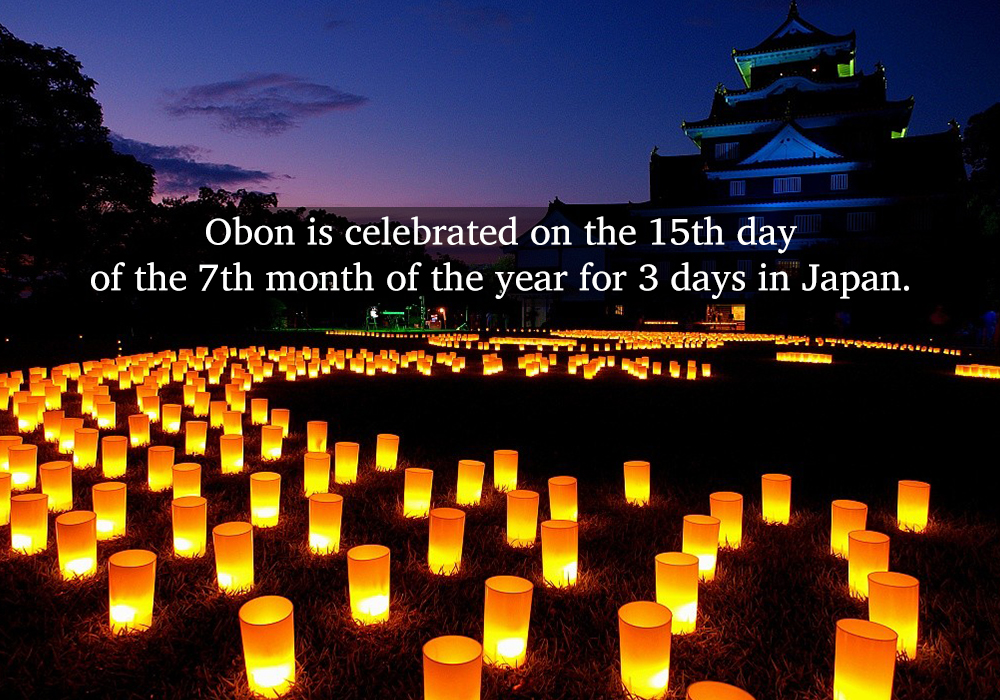 When: 15th day of the 7th month of the year
Where: Japan
How Long: 3 days.
Although it is a religious one, Obon is also one of the biggest Japanese cultural festivals celebrated annually on the 15th day of the 7th month of the year by the Japanese people all over Japan. The Japanese people observe this Buddhist festival to honor the spirits of their ancestors.
Obon, or simply Bon, has been observed for over 500 years and usually lasts for three days. The most notable part of the event is the Bon Odori, also known as the Bon Dance. Furlong this festival, the Japanese locals clean their homes and fill them with paper lanterns. They also put food as offerings at the Buddhist altars.
You can expect to be captivated by the paper lanterns floating down the serene rivers during the tōrō nagashi ceremony and find tranquillity during the Daimonji Gozan Okuribi as you sit by the five bonfires ignited on the mountains of Kyoto.
7. Nagasaki Lantern Festival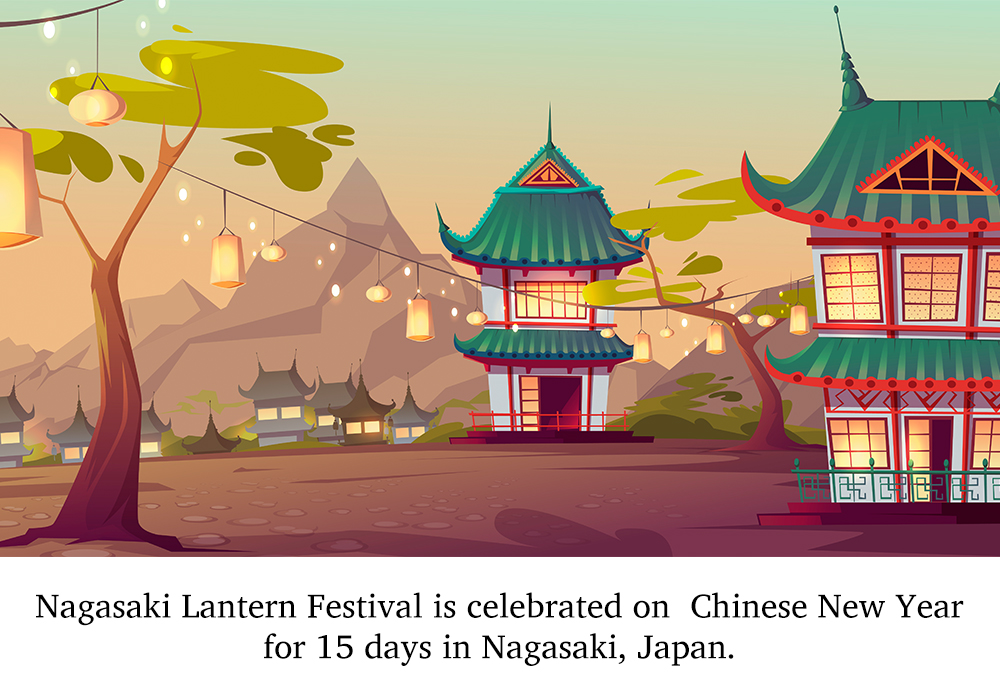 When: Chinese New Year
Where: Nagasaki, Japan
How Long: 15 days
If you want to welcome the new year filled with lights, then the Nagasaki Lantern Festival is where you need to be. This captivating festival turns Nagasaki into a wonderland when almost the entire city is adorned with red, yellow, and orange color lanterns.
You can expect to be entertained by the brilliant parades and electrifying live performances during this festival that turns Nagasaki into a city of lights.
We hope this article helps you gain more insights into the fantastic festivals of Japan.
If you want to witness these tremendous Japanese festivals, you can now easily move to Japan by working in Japan through AKAL's TITP (Technical Internship Training Program).
TITP is run by the Japanese government and allows foreign nationals to Work in Japan for up to 5 years and learn Japanese ways of working, their culture, and, of course, the Japanese language. This is the perfect opportunity to find some of Japan's best and highest-paying jobs.
Through TITP, You will get a chance to work in Japan for over 3-5 years, and the employer will fully pay for your accommodation. You will also get a one-way travel ticket from India to Japan plus a monthly compensation of approximately 100000 JPY (as per market conditions).
To register for TITP to find jobs in Japan from India and to know more, visit and call on the number mentioned in the link below:
https://www.japan-academy.in/
Until next time, sayōnara for now.
(Visited 341 times, 1 visits today)