Apart from its scrumptious cuisines, picturesque settings, fascinating arts and spellbinding cultural heritage, Japan is also known for its unique education system, which takes on a traditional approach and follows a strict disciplinary routine. As evidenced by the over 150,000 international students in Japan, this technically-advanced nation ranks among the top of best places to study abroad for international students.
So, what makes Japan's education system so unique? Why is Japanese education better as compared to most countries? Well, let's unravel some Japanese education system facts to understand more.
Japanese School System
Let's begin by familiarising ourselves with the school system in Japan. Usually, a child in Japan starts going to school by the time they reach the age of six. They begin at Elementary School, a compulsory education besides Junior High School or Lower Secondary School.
The table below explains what the Japanese school system consists of: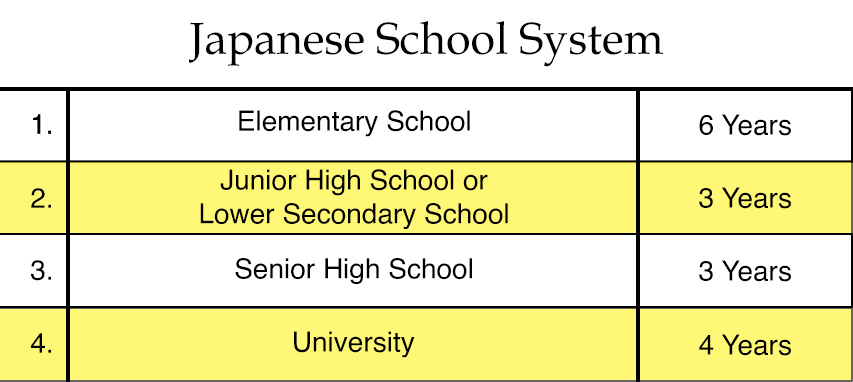 The Japanese education system also has "Special Needs Education" for physically or mentally challenged students.
Moreover, not all students go from senior high schools to universities. Some opt for two-or-three-year junior colleges.
How Japan Stands out in Education System
The high educational standards of Japan is the nation's pride. It is no surprise that it has produced 29 Nobel laureates, from Hideki Yukawa (Physics) to Yoshinori Ohsumi (Physiology or Medicine), among many others.
Take a look at the following Japan schooling system facts to understand why and how Japan stands out in its education system.
Japanese schools focus on quality over quantity.
A study showed that 85% of the students in Japan are happy in school.
Elementary School and Junior High School /Lower Secondary School are compulsory education in Japan.
Japanese students hardly ever repeat their grades in Elementary School or Junior High School /Lower Secondary School.
Japan is among the top-performing OECD countries in reading literacy, mathematics and sciences.
Japan is one of the safest countries in the world to study in for international students.
A study showed that about 91% of the students in Japan claim that they do not ignore lectures given by their teachers.
As per the OECD, Japan's high school students rank number one globally for mathematics, and a Japanese student spends about 235 minutes per week in regular math class on average.
Japan's high school students also rank second in the world for scientific literacy.
Japanese students have a sense of belonging and never feel like an outsider when it comes to their schools.
Many Japanese students attend After-school workshops to upskill or educate themselves further.
Almost most Japanese children attend pre-primary education as a study shows that children who go to preschool are more likely to perform better when they reach 15 years of age than those who do not.
As respect is big in Japan, the teachers do not have to wait for long for students to settle down in class.
Punctuality is taken seriously in Japan, so students are rarely late, and according to PISA 2012, students Japan do not skip their classes.
Students in almost all junior high schools in Japan are required to wear school uniforms.
The school system in Japan sets a fine example for other countries. From what happens inside the classrooms to outside, the dedication and diligence of both students and teachers are something that should be emulated.
If you want to Study in Japan, you can easily do so through AKAL Japanese Academy's Study Abroad program. We can help you in so many different ways and give you the opportunity to study and/or Work in Japan
Admission in Japanese Language Program in Japan
Learn the Japanese language up to N5 Level (As per visa requirements)
Visa processing for Japan
Assistance in obtaining jobs in Japan
Assistance to find a part-time job in Japan while you go through the Japanese Language Program (Optional)
Assistance for "Specialized Skills" test in Japan after completing 1 year of Japanese Language Program.
AKAL Japanese Academy focuses on preparing candidates to work, study or travel to Japan and has helped many candidates migrate to Japan to study and/or work.
(Visited 4,618 times, 8 visits today)