Even when we have the best pictures to share on Instagram, it's often finding the perfect caption that always gets us second-guessing our posts. Unless we are very good at writing or with words, we usually go for emojis or quotes by famous people. Well, there's absolutely nothing wrong with that. But, the same old boring quotes have been used repeatedly by many Instagram users. Why not try something different and go with some unique, deep, and fine Japanese song lyrics captions?
Even if you don't understand the Japanese song lyrics, there are many English songs sung by famous Japanese artists such as Joji, whose Ballads 1 even peaked at No 1 on Billboard's 'Top R&B/Hip-Hop Albums Chart. Many Joji quotes are even used as captions across various platforms.
Many people prefer to go without putting captions on their Instagram posts, and that is perfectly alright. However, if you want to widen your reach and engagement rate, we highly suggest that you add post captions for your Instagram posts and stories.
As many Instagram users have widely used quotes from song lyrics for their captions, we will share some of the best Japanese song lyrics quotes and anime song lyrics in English that we are sure you would love.
Japanese Song Lyrics For Instagram Caption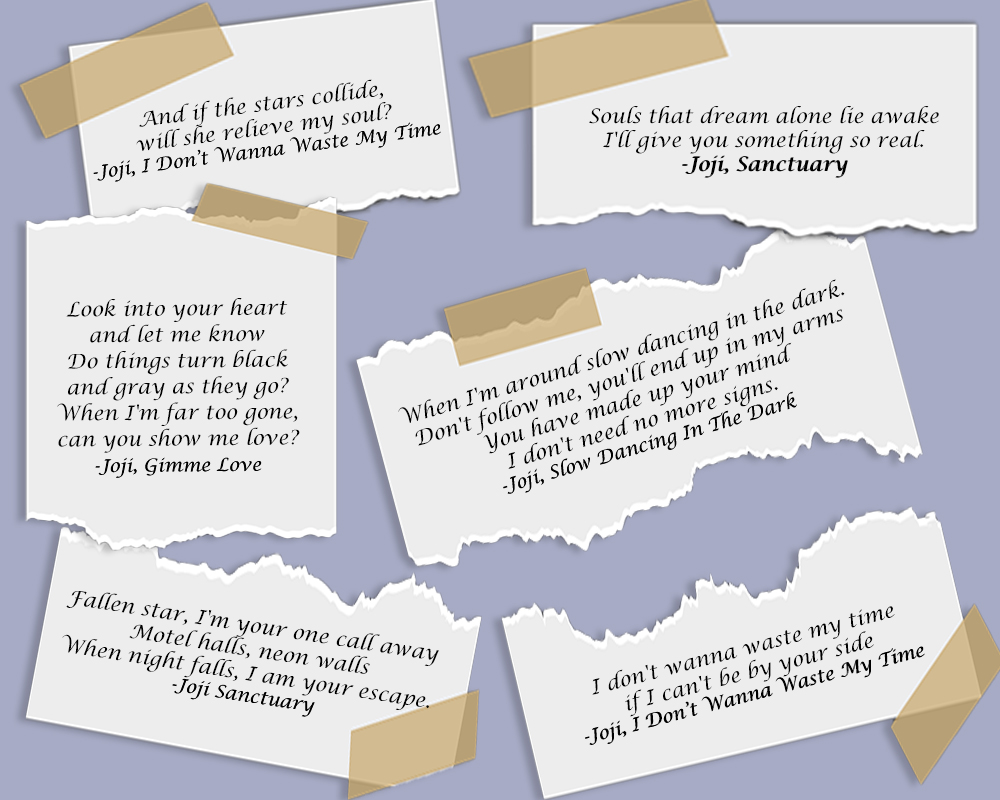 Depending on your mood and situation, you can pick your favorite quotes from song lyrics sung provided below for your next Instagram post or story. While some of these lyrics are originally written in English, some are translated from Japanese to English.
"Maybe this time tomorrow,
The rain will cease to follow,
And the mist will fade into one more today."
-Gravity, Wolf's Rain (OST)
"Look into your heart and let me know
Do things turn black and gray as they go?
When I'm far too gone, can you show me, love?"
-Joji, Gimme Love
"If only I had wings to fly
If the sun would shine your light
Maybe I can find you."
-Yuya Matsushita. Last Dance' 06
"I'll be there by your side
In the land of twilight
In your dream, I will go
Till we find the sunrise."
-Yuki Kajiura, Liminality
"Girl, whenever you need me I'll be there
Girl, you will never be alone."
-Dreamin' Together ft. Little Mix, Flower
"Fallen Star, I'm your one call away
Motel halls, neon walls
When night falls, I am your escape."
-Joji Sanctuary
"Girl, whatever people say trust yourself
Girl, you got to follow your heart."
-Dreamin' Together ft. Little Mix, Flower
"Although you're up above the sky
I know even from the ground
I'll hold your hand."
-Yuya Matsushita. Last Dance' 06
"So many dreams, so little time
Tonight, let's shine like stars up above."
-Dreamin' Together ft. Little Mix, Flower
"Don't worry, it's safe right here in my arms
As the world falls apart around us
All we can do is hold on, hold on."
-ONE OK ROCK, The Beginning
"I don't wanna waste my time if I can't be by your side."
-Joji, I​ Don't Wanna Waste My Time
"Don't look down, don't turn around
Tonight, your smile is just so beautiful."
-Dreamin' Together ft. Little Mix, Flower
"This is my life
I don't know where to begin
I've been wandering
Looking for the voices within
This is my life
Think I've found a place to begin."
-Nano, Now or Never
"With our elongating shadows on the paved street lined up,
I'm walking together with you in the twilight."
-Mika Nakashima, Snow Flower
"And if the stars collide, will she relieve my soul?"
-Joji, I​ Don't Wanna Waste My Time
"As long as we stay together, I have a feeling
that we'd be able to overcome any kind of hardship.
I sincerely pray that days like this
will continue forever and ever."
-Mika Nakashima, Snow Flower
"Souls that dream alone lie awake
I'll give you something so real."
-Joji, Sanctuary
"No matter what kind of sorrows,
I'll help you turn them into smiles."
-Mika Nakashima, Snow Flower
"The pure-white snowflakes
piled up on the streets
will sketch new memories onto our hearts.
From now on, too, we'll stick together."
-Mika Nakashima, Snow Flower
"When I'm around slow dancing in the dark
Don't follow me, you'll end up in my arms
You have made up your mind
I don't need no more signs."
-Joji, Slow Dancing In The Dark
"Yesterday's night turns to light
Tomorrow's night returns to light
Be the light."
-ONE OK ROCK, Be the light
Anime Song Lyrics In English For Instagram Caption
Anime, no matter the genre, always teaches some meaningful and related life lessons. Even the songs are powerful. Here are some of our favorite anime song quotes that we are sure you'll love as much as we do.
"This love in my heart it will burn on forever
Granting me courage, I hope it will never stop
And no matter where you are, nothing is too far
With our everlasting bonds we'll reach it
We are hope."
-Hope (One Piece)
"If you need a hand to hold, then stay the night
On the darkest of my days, you saved my life."
-Brave Shine (Fate/Stay Night)
"We've been through the worst of it, you and I
I look back on long and lonely nights
From this moment on,
You don't need to hideaway
When you are afraid,
Not anymore."
-Lovers (Naruto Shippuden)
"Although your tears are freezing cold
Your trembling heart is still wonder to behold
OPEN YOUR EYES – Hold them with your gaze
And they will see there lies a dream to leave them hypnotized."
-Open Your Eyes (Occultic;Nine OP)
"It's through your kindness, I'll always be grateful
And I'll strive to become stronger (I'M ON THE WAY)
It's so nostalgic, maybe all the love is worth the pain."
–Again (Full Metal Alchemist)
"BREATH IN, BREATH OUT, submerge your voice
CALLING, CALLING, call our your name
THIS IS YOUR LIFE, so never lose yourself."
-Renegade (GANGSTA)
"When all your tears overflow
Chilling and so cold
Time will be singing its last sweet song
You've sought the light
And in it, you have become strong
You've shown the darkness you can fight."
– Kagayaku Sora no Shijima ni wa (Kuroshitsuji II/Black Butler II)
"FOLLOW MY WAY
I'll aim ahead, my fear, I'll fight it
FOLLOW MY WAY
Won't stop till I've surpassed my limit."
-Make My Story (My Hero Academia)
"The light that shines down from the moon will guide the way
And once again, it leads me to you."
-Moonlight Densetsu (Sailor Moon)
"Like the snow, all my love,
Falling down from above
In time – in time
It piles high as if to touch the sky."
-Eternal Snow (Full Moon o Sagashite)
There you have it, ladies and gentlemen: the best Japanese song lyric quotes for your Instagram caption. We hope they come to the rescue should you ever need any of them.
Learn Japanese
To enjoy these amazing Japanese songs to an even deeper level, you can Learn Japanese Online or offline in many of the Japanese language learning schools in India, such as AKAL Japanese Academy.
AKAL Japanese Academy focuses on teaching the students the Language of Japan and everything they need to know about Japanese Culture and Traditions. Qualified with the best learning materials and some of the best Japanese language teachers, you will be given flexible time slots depending on your availability.
(Visited 200 times, 1 visits today)