Visiting or moving to a new country can be exciting and worthwhile. Traveling to or living in Japan has been a memorable experience for many people.

As one of the most technically advanced countries globally and among the leading force for research and development in many industries, the Land of the Rising Sun is the perfect place to find your dream job and build your career. Moreover, its quality education and exposure to different domains of expertise make it the ideal place for students to get the best education.

Japan is quite affordable for its citizens, but the same cannot be said for foreigners who have just moved to Japan to work or study. If you wish to migrate to Japan, this article will guide you on what you need to know about the cost of living in Japan. We have segregated this article for three different sections of people – TITP aspirants, Skilled professionals, and Highly skilled professionals.
What Is TITP? 
TITP stands for Technical Intern Training Program and refers to interns from India who migrate to Japan for a short tenure to train and work in reputed Japanese companies. Skilled and Highly Skilled professionals refer to the experts in their field and have some working experience in Japan.
What will you benefit from TITP?
Take a look at the fantastic benefits that TITP comes with:
You will get the opportunity to Work in Japan for 3 to 5 years.

You will receive monthly compensation of approx. 100000 JPY (as per market conditions)

You will enjoy fully paid up accommodation by the employer.

You will get one-way travel tickets from India to Japan as it is part of the program.

You will get a one-month onsite Japan training with a stipend (of 60000 JPY) & accommodation
How Much Does It Cost To Live In Japan?
You might be wondering, "How expensive is it to live in Japan?" Well, compared to India, you should expect the cost of living in Japan to be higher. However, as compared to other developed countries, living in Japan can be affordable if done economically. For instance, the average cost of living in Tokyo – the nation's capital –  would be higher than in Osaka. On average, the cost of living in Tokyo per month for a single person would be around ¥134,871 (approx. ₹90,230.22) without rent.
House Rent
The cost of rent in Japan depends on the kind of lifestyle you want to live and your monthly budget. Gaijin houses and apartments in the suburban parts of the country make for an aesthetic view and are the best offbeat options available there.
So, how much is rent in Japan? The nationwide average cost of living in Japan per month without utilities is around ¥45,000 to ¥70,000 (approx. ₹30,105.51 to ₹46,830.79).
Rental costs are quite sustainable in Japan. While skilled and highly skilled workers need to spend on housing, TITP aspirants needn't worry about these costs as these are usually sponsored by the company.
 
Electricity


Utilities such as gas, electricity, and water are usually not included in house rent. Electricity is a must for your house, and these costs may vary. Since these are affordable, most modern homes in Japan have basic electricity and water amenities. The average cost of electricity in Japan per month would be ¥4,500 to ¥5,000 (approx ₹3,010.55 to ₹3,345.06).

City Gas


City gas can only be available in big cities as the infrastructure and maintenance can be expensive, as it is supplied via underground pipes. Gas meters are checked once a month. You would probably have to spend around ¥3,000 to ¥4.000 per month (approx. ₹2,007.03 to ₹2,676.05) for city gas per month. 

City Water
Japan's water connection, especially in cities like Tokyo, comes from dams, rivers or reservoirs. Tap water is safe for drinking as it is well-purified.


In cities like Tokyo, water and sewage bills usually come every two months. City water is at a standardised cost for all sections of the population. Your water bills will be around ¥2,000 (approx. ₹1,338.02). 

Food
You will also need money for yourself and this includes eating healthy, taking public transportation, shopping, special occasions, etc.
The Japanese have a wide range of food options that are delectable and quite pocket-friendly, so plan your next weekend in a local hangout place. There are several options for purchasing clothing, cell phones, and other items, from 99 yen stores to bigger establishments. TITP aspirants, skilled and highly-skilled workers, can therefore afford to dine out and enjoy the finest that Japan has to offer.


Be prepared to spend around ¥25,000 to ¥35,000 (approx. ₹16,725.28 to ₹23,415.39)

per month for groceries or take-out and your other basic necessities.


Transportation


Japan has

many types of public transport – buses, metro, trains, and ferries. It is known for its well-connected and punctual network system. So, do not worry about delays or service disruptions if you take public transportation. You could also purchase new care as long as you can afford it. Take a look at the prices of public transportations, new vehicles, and gas listed below.




Personal Care


To take care of our body and our health, there are certain things we need to do daily. This includes brushing your teeth twice a day, shaving, bathing everyday, etc and to do all these we need to buy certain things such as soap, toothpaste and brush, etc. We also need to keep certain pharmaceutical products such as bandaids, tampons, painkillers, etc. in our house in case of emergencies. Here are the prices of some of the basic essential items you will need.




Entertainment


Once you've settled in Japan, you wouldn't want to work all the time. You are going to want to hang out with your new friends and old ones. There will come times when you are invited out for drinks or dinner or to watch a movie.  Take a look at the prices you would likely spend for entertainment in Japan.




Clothing


Shopping for clothes is something you will eventually have to do in Japan. If you are wondering how much a pair of jeans or shoes or dresses cost in Japan, take a look at the average prices below.



The below table depicts the average monthly cost of living in Japan for TITP Aspirants, Skilled Professionals, and Highly-Skilled Professionals.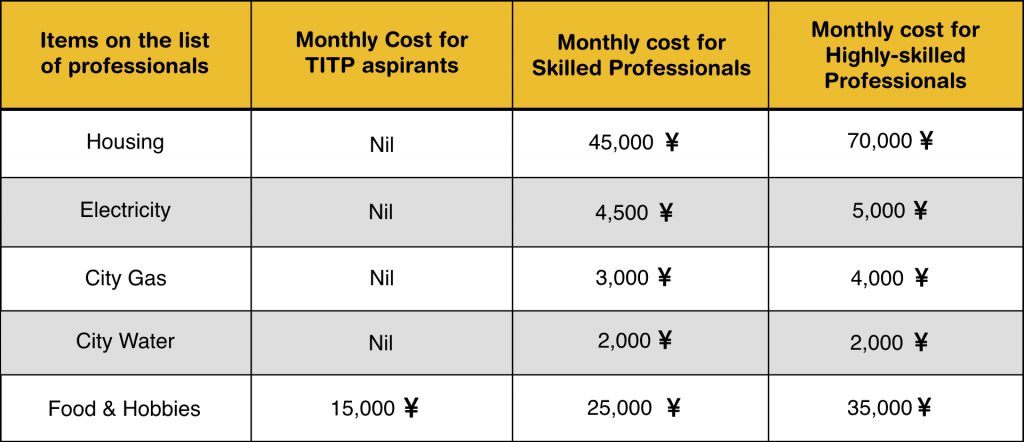 Considering that the ratio of expenses increases with an increase in income, we believe that living costs in Japan are manageable. Japan provides several options to its residents, so look out for affordable things and work best for you.
If you are looking to join TITP in India, AKAL Japanese Academy in New Delhi offers the best training facilities and exposure to Japanese culture. They offer pre-dispatch training programs, Interview preparations, Japanese employer facilitation, Job matching, Visa paper processing, background verification check-ups, and much more.

Visit Akal Japanese Academy to learn more about this once-in-a-lifetime opportunity and register for this amazing program to jumpstart your dream career in Japan.

We wish you luck in your journey of discovering Japan.

Sayonara for now! 
(Visited 538 times, 2 visits today)